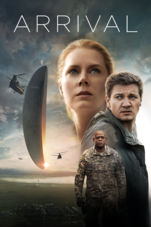 Arrival is one of those strange movies that you hear a lot about despite that fact that no one really talks about the movie itself. Now that I've seen it, I understand why. On the one hand, any discussion of the film's critical plot points necessitates spoilers. On the other hand, any discussion of the underlying ideas beyond, "OMG, so smart", would betray the fundamental stupidity of this movie.
I'm going to dissent from the closed mouth analysis of this movie and ruin both the plot and the precepts that underlie this movie. That can't be done without copious spoilers, which I'm laying out on the table in the supreme hopes that I can dissuade you, dear reader, from wasting your time on this dullard in philosopher's clothing. The hard part is not talking about the elephant in the room, it's picking which of the three elephants to start with.
(And I'm not even including the elephant of Forest Whitaker's presence making the film actively worse. The man is a charisma black hole, and how he continues to appear in big budget films is a mystery for the ages.)
First, the basic plot rundown. Aliens come to earth and hang out until Amy Adams deciphers their written language which grants her the ability to see through time. She uses that ability to stop the Russians, Chinese, and Pakistani's from attacking the clearly superior tech of the aliens, who are called Heptopods because they have seven hand/feet/mouth/tentacle appendages. The gift of the magic aliens carries with it a curse, as it shows Amy that her marriage to Hawkeye will end in divorce and that their daughter will die of cancer, a fate she accepts because 'tis better to have lived and lost etc.. Brilliant visuals combine with long, lingering wide shots and intensely personal close-ups of actors emoting so hard they almost break the camera to produce a film that allows the audience plenty of time to:
consider the deep and multi-layered meaning of the ideas presented in Arrival,
to huff their own farts and feel smug about how much better they are, as people, than the dullards in the next theater enjoying giant robots punching themselves amid an unfollowable storm of motion and noise.
both of the above.