Ravage: The Adventure (Finally) Begins
Posted On July 13, 2019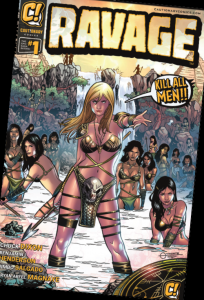 Last year, in an effort to pushback against the ensqualminating of comic book industry, I made it a point to back a number of kickstarters.  One such title earned a backing based solely on the involvement of The Legend.  The seven bucks for a single issue and spicy marketing would have put me off Ravage: Kill All Men entirely, but come on – Chuck Dixon.  After what he showed us in Alt-Hero: Avalon and Alt-Hero: Q, it'll take more than 1960's level titillation and a couple bucks to scare me away.
When it comes to subverted expectations, this title delivers and then some.
For example, I expected it to arrive in October.
Hey-o!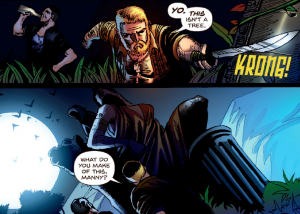 Cheap shots aside, it's a tight jungle adventure story that harkens back to the old serials.  The two dudebro protagonists are rough around the edges, mercenary, and ultimately just likable enough to provide a hook for the reader.  That's not a weakness – at least not yet.  In just 24-pages Dixon, Henderson (writing), and Delgado (artist) introduce the reader to Manny and Randall in quick two-page mini-adventures then race to get them to the jungle island of warrior women, while throwing several random encounters and obstacles in their way.
That's a lot to pack in, and if the characters seem a little two-dimensional, it's early.  They just need a little more time to develop.  As it is, the point of this comic isn't to learn the intricacies of the personalities of Buddy Duo #314.  It's to vicariously experience the thrill of journeying to strange new places, fighting the good fight, and maybe meeting a few pretty ladies along the way.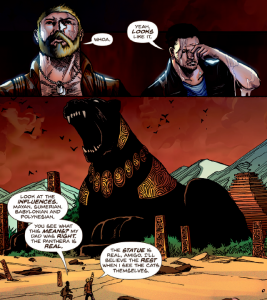 And here, in spite of artwork and coloring that's a bit muted and muddied, Ravage delivers the goods.  We live in an age when every corner of the map has been filled in, when people die trying to reach the top of Mount Everest because the lines are too long.  Finding a little nook or cranny of the globe in which to stick a lost culture means a little more effort by the writers and a little more suspension of disbelief by the reader.  Dixon and Henderson do their part, and if you can do yours, you get the sort of lost-tribe exotic locale that's largely fallen out of fashion among the mainstream storytellers.
Dixon and Henderson don't have time for that.  By the end of the issue Randall and Manny are stranded on the island of the lost and murderous dolls, get captured by said dolls, and as they are led to their cells, they just miss out on an expository monologue by the leader of the lost dolls.  Suffice it to say that the arrival of Team Dudebro means the women of Lost Island means that the Queen can finally implement her plans for world domination.
It's a fun read, it's exciting, and maybe a bit silly.  Either way, it's nice to be reminded that you aren't the only one around who still enjoys light hearted adventures.  The cover says, "Mature Content", but nothing in this issue rises above the PG-13 level of titillation.  So it is with considerable satisfaction that I can report:
We wanted to let you know that "RAVAGE – The Complete Kill All Men Saga" will be for sale exclusively on Indiegogo launching on  September 15th, 2019!  We will be bundling Issues 1-5 into one 120 page Graphic Novel of high energy RAVAGE action written by Chuck Dixon! Less than 90 Days away!
That's the most recent update from the IGG site, and come September, I'll be there for this one.