Maybe you've been sitting on the fence, not sure whether these loud mouthed PulpRev guys really can back up their pulp talk with a little pulp walk.  No doubt, the crowd has an online swagger and confidence about their understanding of the pulp works and how to recreate the excitement and fun of the original pulps.  But can they really deliver?  You might not want to risk your hard earned cash on a full survey of the PulpRev works.  Maybe you're already sold on the idea, but you don't know where to start.  Either way, Jesse Abraham Lucas has your back.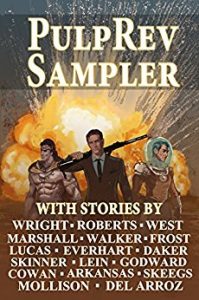 Despite the lack of his name anywhere on the product – for shame! – he remains the central driver behind this tour de force walk through seventeen of the most exciting authors working today.  Generally independent, but universally fun and exciting, this anthology consists of seventeen short stories, each less than 2,500 words in length.  For less than a dollar on Amazon or for free when you sign up for the PulpRev newsletter, you can take these authors for a test drive.  But honestly, having read the book myself, I can tell you that this book won't solve your problem.  Instead of wondering where to start, you'll have a hard time choosing who to read next.  Because what each story lacks in length, it makes up for in punch!
From the otherworldy elven tournament on offer from N.A. Roberts to Jesse Abraham Lucas' own tale of the lives of enchanted weapons to the weird alien-fantasy unlike any you've read elsewhere by Dominika Lein, you just can't go wrong with any of these stories.  Give them a shot, even if they aren't all your cup of tea, you'll find a few gems and a few new authors to add to your won library.