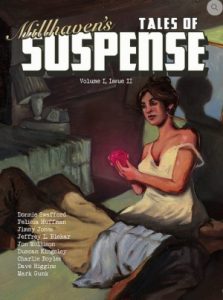 One of my short stories found a loving home at Milhaven Press.  Specifically in this month's new release, "Tales of Suspense".  Milhaven has adopted a rather clever quarterly schedule for their short fiction.  Unlike the 'everything goes so long as it's action' of a StoryHack, or a focus on the fantastic as seen Cirsova, Milhaven rotates genres by packaging each quarter along a theme.  The first edition, Tales of Wonder would fit on a shelf alongside Cirsova or Planet Stories.
This second installment focuses on stories of mystery, crime, and espionage, and features nine stories along those lines including another Karl Barber story by yours truly.  This time around, Karl goes up against a criminal underworld using a pizza place as a front for their dirty work.  Those of you tuned into the conspiracy theory wavelengths can guess the relevance of the location.
As reviewed by the always trustworthy Misha Burnett, a regular contributor to Cirsova Magazine and a fine author in his own right:
This isn't "retro-pulp" where the authors are camping it up and leering at the audience to make sure that everybody knows they are just making fun of that kitschy old-timey junk–these are stories in the spirit of Bradbury and Lovecraft and Frederick Brown.

…these are not pastiches or parodies that randomly drop hardboiled gangster slang into a stew of moral ambiguity. There is irony here, and some black humor that reminds me of Roald Dahl's stories for grownups, but it's not poking fun at the form. These are stories that would be at home in Ellery Queen's Mystery Magazine.
Go read the rest of his review, and then stick around for more reviews and thoughts on writing.  Misha is top notch, and his advice has helped me round out my own written word in a lot of ways.
But first, pick up your copy of Tales of Suspense, and settle in for some of the best new author voices on the market today.