StoryHackery: Island Rescue
Posted On November 24, 2019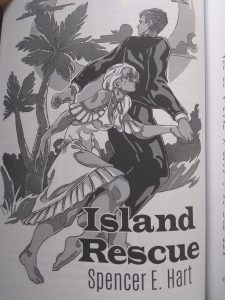 Spencer E. Hart hits the fourth issue of StoryHack with a nice little adventure that delivers exactly what it offers.
I have been following Spencer's work for a while, in both this and the pages of Cirsova Magazine, and with this story of a kidnapping gone wrong, it's safe to say he has hit his stride.  A few of his earlier works included a few clunky passages, or skipped vital descriptors of important story elements such as setting, environment, or dress.  That might be on me, my internal editor tends to overanalyze word order and usage even when I read for pleasure.  This one flows from first sentence to last without ever triggering my hyperactive and purely mental red pen.
This is a light story, just a quick break for young love, kids in trouble, and how they surprise and fight their way out of a trap.  Perhaps it is the fine editing skills of Bryce Beattie, or maybe Spencer has grown into the pulpy writer he always has in him.  Either way, he is an author to watch for.