Give Money to People Who Don't Hate You
Posted On February 21, 2021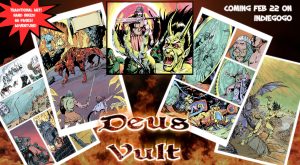 Friend of the blog
Jesse White
has an exciting new project kicking off tomorrow.
DeusVult, a comic that harkens back to the days when comic book companies didn't hate you, drops onto IndieGoGo.  With tiers for hand-inked pages with several panels on them, as well as full-splash page art, which will sell on a first-come first-served basis.  At the grand daddy tier, he will be selling the original oil painting done for the cover art. Not a digital piece, but a real hand-done painting on canvas! The lucky first buyer will get that canvas mailed to them, with shipping paid by Jesse.
We'll dump a follow-up post here, complete with linkage, but I wanted to let you know early in case you want to be first in line to score the limited edition offerings.  Bear in mind, he is partnering with a writer, so the Indiegogo channel will be under that writer's name, but he will receive 50% of all sales, and 100% of any purchases made of his original artwork.