Ratmen WIP
Posted On February 26, 2023
Taking the advice of Vince, from over on the YouTubes, I primed these rat dudes in a rich yellow.  Normally, I go with the black/gray/white spectrum, particularly these days when contrast paints do half the work for you.  But I knew these little rat dudes would be draped in purple clothing, and wanted to push my skills a bit.
At this point, I wasn't too sure about this. But once I got the cloaks finished on the first batch, I could see the finish line, and 8t looked good.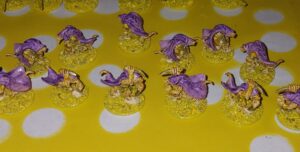 Even more so once I got grass on the bases. Static grass is always the last step for my figures, which is fitting given how well the complete things.
There is just something about that vibrant green hue and natural organic look that takes figures out of the uncanny valley.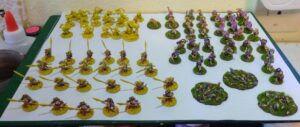 Here you can see the full Splintered Light army in a state of partial dress.  We'll take a closer look at each unit in a couple of days.