Experience the Difference
Posted On October 6, 2023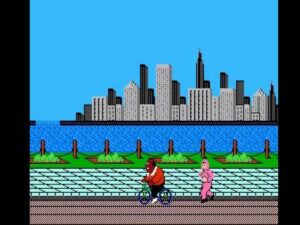 So you are playing AD&D and your 1st level thief is scouting solo when he shanks a goblin, rifles his pockets, and finds a gem worth 10,000 gold pieces.  That means 10,006 xp and you are on your way to 5th level.
"Not so fast," your DM chortles at the end of the night.  "You have to forfeit all but 2,500 xp.".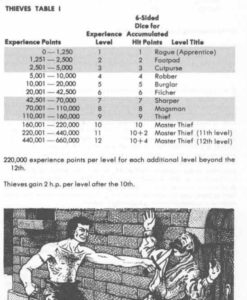 He gloats that everyone knows a PC can't gain experience points past the total amount necessary to reach the next level.  He points to the following passage on page 86: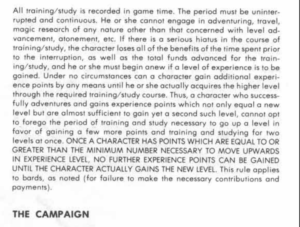 He then snort laughs, shows his coke bottle glasses back to the bridge of his nose, folds his arms, and sits back behind his screen.
ONCE A CHARACTER HAS POINTS WHICH ARE EQUAL TO OR GREATER THAN THE MINIMUM NUMBER NECESSARY TO MOVE UPWARDS IN EXPERIENCE LEVEL, NO FURTHER EXPERIENCE POINTS CAN BE GAINED UNTIL THE CHARACTER ACTUALLY GAINS THE NEW LEVEL.
But he has not reckoned with the fact that you are not illiterate.  You don't care what everyone knows, you are here to play the game as it is written. You point to the words, "or greater", and as comprehension grows, his face falls.
Here's the trick that he is trying to pull. He thinks of experience points as individual increments that he doles out parsimoniously, one at a time, as one would count out coins.  He thinks that the count halts at 2,500 LOL. But you know XP awards are given out as lump sums, all in one lucrative injection. That fat gem earns your thief 10,000 gold and experience points at the point of sale.
You have reached the ranks of "or greater".
Now you cannot earn any new experience points, as the next session will begin with you in an uncertain state.  You have the experience, but not the training. Until you train up to fit your level, you can gain all the gold in the world but none of it will grant you an experience point.
Naturally, you decide to spend the money on training costs.  Because you shanked the goblin, skulked on your own, and sniped the fancy gem out from under your party's noses, he is forced to rate your play exceptional.  This means it only takes 1 week to train up to level two. That cost you $1,500. Another week to reach a level three cost you $3,000 gold. Another week to reach level four cost you $4,500.
Uh-oh.  To train up to level 5, you are going to have to spend another $7,500. But after your crash course in thievery, you are left with only $1000 in your account.
Guess who has to go back into the dungeon?
And you can't gain another experience point until he raises another $6,500.
This game is littered with incentives to go do dumb and risky things down in dank holes, innit?