Planetary Defense Awards – 2017 Ballot
Posted On January 8, 2018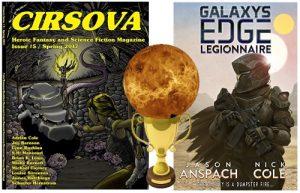 January means that it's time to start thinking about awards season.  And when it comes to sci-fi, the hot new award on the block is the Planetary Awards.
This year, I'm going to go with "The Last American" for the short category.  Schuyler Hernstrom's poignant and rambunctious kitchen-sink adventure complete with astronauts, wild-haired barbarians, lizard men, and oh, so much more was another breathtaking read from my favorite modern era author.  It's a standout, even among the excellent company it keeps in Issue #5 of Cirsova Magazine.
For long form, I'd like to nominate "The Corroding Empire" by Johan Kalsi, but that's an edge case that might get dinged for being more of a collection of short stories set in the same milieu.  Another honorable mention goes to "The Heretics of St. Possenti", which is a prequel to a sci-fi book, but doesn't actually qualify as sci-fi itself.  So instead, we'll play it safe and nominate Nick Cole and Jason Anspach's "Legionnaire".  I'm not usually a big fan of mil-sf, but the characters and writing were so engaging that the book sucked me in, drained me dry, and spit me back out.  Nobody does jaded old warriors clinging to last scraps of decency like Nick Cole does – he even clears the very high bar set by Glen Cook – so this ranks as the best SF book I read in 2017, and my nomination for the award.
Make sure you get your own votes in before February 14th!