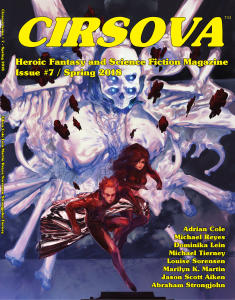 It's that time of year again!  Time to subscribe to one of the best short fiction magazines on the market today.  Cirsova once again is offering digital subscriptions to the two issues slated for release in 2018.  At $10 each for the print copies, this is an incredible bargain for what you get.
More stories by the always reliable Adrian Cole and exciting newcomer Dominika Lein are slated for Issue #7, and the Editor even promises more Abraham Strongjohn!  His "At the Feet of Neptune's Queen" was a highlight of the inaugural issue, so I'm excited to see what he has planned for us.
Why not swing by and back it right now, while it's fresh in your mind?  You can get both issues in digital format for just a buck!  That's what I did – but I also support the magazine by purchasing advertising for one of my fun and adventurous novels.
And don't forget to sign up for my newsletter – I'm giving away a digital download code for a copy of the video game Cuphead in just two days!