Got 'em lined up into next year and it's only just February.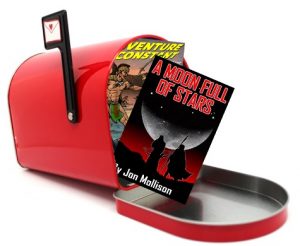 The early part of 2018 will see the release of my first two sequels, one for Adventure Rising and one for Sudden Rescue.  I've got short stories coming out in a couple of collections, and I've been invited to contribute to a shared universe for a project that I can't talk about just yet.  But it's going to be really impressive.
Because that's not enough work, I've got a YA novel in the works that's unlike most of those on the market today.  Thanks to the ensqualming of tradpub, YA has come to mean, "plain girl that's a secret badass taking on a dystopian regime".  My YA novel is pretty much Red Harvest on a playground.  Yeah.
As usual, I'll be doing everything wrong from a financial perspective, but having too much fun from a creative perspective to lose any sleep over it.  God first, readers second, profit…eventually.  That's my motto.  If any of this sounds appealing to you, why not sign up for my newsletter.  I'll be dropping a first look at the cover to my next book this Sunday.
Spoiler alert:  It passes the Jeffro Test.